I decided to write a blog post rather than the more ephemeral Facebook post.  I'll go back and grab Helsinki, but right now I want to talk about Stockholm and my first day in Copenhagen.  So far Stockholm still has my heart over both Helsinki and Copenhagen.
Copenhagen is a lovely city, but despite the colorful older buildings lining the broad boulevards it has a very modern feel.  Stockholm's Old City and the walk along the river past City Hall was more charming.  Not as old as Taillin, but people were living there so it didn't have the feel of a Disney set despite the main street filled with shops and restaurants and tourists.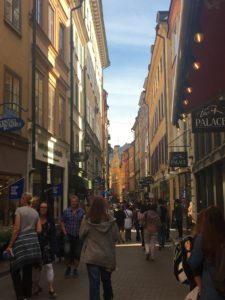 Once you got off onto the side streets you discovered charming little squares with sculptures such as this St. George & the Dragon.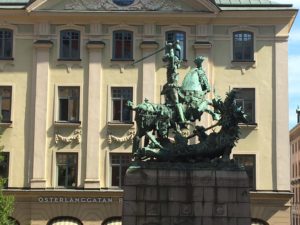 On our final full day in Stockholm we returned to the royal palace to tour the armory.  We had seen the crown jewels and the apartments the day before, but the armory was the most interesting for me.  A lot of horse tack and clothing as well as weapons.  I want this cavalry outfit.  I also want these aigrette's for Vento.  The got on the forehead and the tail, and I think my vain boy would approve.  .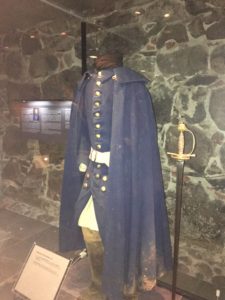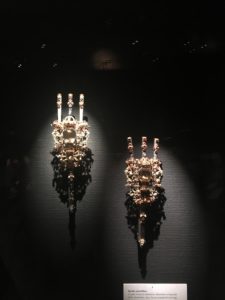 The Swedes seemed to lose a lot of kings in combat (as well as one to assassination Gustave III at a masked ball which  became the basis for a Verdi opera Un Ballo in Maschera.  (I sang the page boy Oscar in that one.)  Anyway you get to see Gustav's blood stained waistcoat and the pistols used by the assassin.  There is also King Gustav II Adolph's horse he was riding at the time of his death in 1682.  No, not a model of his horse — the actual horse named Streiff.  There was also an elaborate bridle, but check out the vicious curb bit with its incredibly long shank.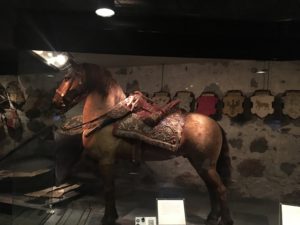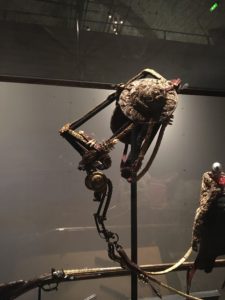 There was also a beautiful 18th century coat with breathtaking embroidery, but it was impossible to capture the sheen and the workmanship through the glass.  There were a couple of 18th century ladies dresses with absolutely absurdly wide panniers.  I really loved the armory, and in the coach exhibit there was a beautiful sleigh.  Because of course there would be a sleigh in a northern kingdom like Sweden.
More on visiting the Vasa museum later.